OUR Pittsburgh ANT CONTROL TEAM IS HERE FOR YOU
Welcome to Complete Pest Solutions, your trusted partner for superior ant control in Pittsburgh. With our unmatched expertise and customer-first approach, we help safeguard your property and your family from the disruption and health risks posed by ant infestations. Our approach is simple yet effective – we prioritize your satisfaction. Working hand-in-hand with you, we establish a robust and efficient ant control plan that addresses your distinct needs.
Why Choose Complete Pest Solutions for Ant Control in Pittsburgh?
Local Expertise: Familiar with the unique ant challenges in Pittsburgh, our experts ensure our ant control methods are perfectly tailored to your environment, delivering optimal results.
Bespoke Solutions: Every property is unique, and so are its ant problems. We adjust our strategies to align with your specific circumstances.
Kid And Pet-Friendly Ant Treatments: The safety of your pets, family, and the environment is paramount. Our treatments are designed with this in mind, offering effective ant control without compromising safety.
Durable Barrier Protection: We establish an invisible barrier around your property, keeping new ants at bay and ensuring long-lasting protection.
Complete Pest Solutions uses a multi-pronged approach to rid your property of ants effectively:
Property Inspection
We meticulously inspect your property to pinpoint potential nesting sites and areas with significant ant activity, which are common in cracks, crevices, and decaying wood.
Focused Ant Habitat Reduction
We help eliminate ant nesting grounds by sealing cracks, crevices, removing decaying wood, and promoting proper sanitation.
Treatment And Baiting
By strategically placing baits and treatments, we control the ant population effectively. Our technicians will evaluate your property and apply the most appropriate solution to disrupt the ant colonies.
Barrier Protection
We deploy barrier protection treatment around your property, focusing on areas where ants enter and nest. This method creates an invisible shield that repels and eliminates ants, ensuring sustained protection.
Pet And Kid-Friendly Treatments
Trust that our ant control methods, designed with safety in mind, will not harm your loved ones or your property's ecosystem.
Preventive Education
We educate you on maintaining an ant-free environment, guiding you on sanitation practices, sealing potential entry points, and using natural repellents and ant traps as supplemental measures to our professional treatments.
FROM OUR INITIAL FREE INSPECTION, WE WORK DILIGENTLY TO ENSURE YOUR PEST CONTROL NEEDS ARE MET WITH EFFICIENCY AND PUNCTUALITY. WE DEAL WITH A VARIETY OF PESTS:
BED BUG EXTERMINATION IN Pittsburgh
Bed bugs are notorious for their bites and can be a significant nuisance. Our bed bug control process begins with a detailed inspection to identify all areas of infestation. We then use state-of-the-art extermination techniques, including heat treatments and eco-friendly pesticides, to eliminate all traces of these pests. We offer advice on preventing re-infestations, including tips on spotting signs of bed bugs early.
TERMITE CONTROL & INSPECTION IN Pittsburgh
Termite infestations can cause serious damage to your home or business. Our services include a comprehensive termite inspection to determine the extent of the infestation and identify key termite colonies. We use advanced termite control techniques that target termites at every life stage. We also provide ongoing monitoring to prevent future infestations, and provide termite damage repair guidance if necessary.
WASP REMOVAL IN Pittsburgh
A wasp infestation can pose a serious threat, especially to those with allergies. Our wasp removal service begins with a thorough examination of your property to locate the nests. Our exterminators use protective gear and specialized equipment to safely remove wasps and their nests. We also provide advice on preventing future wasp infestations.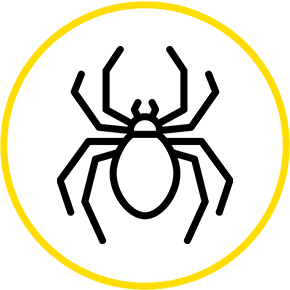 Our team is also skilled in dealing with other pests such as spiders, ants, fleas, earwigs, and silverfish. We offer custom pest control solutions that are specifically tailored to your needs, ensuring these pests are thoroughly removed and kept away from your property in the future.
COCKROACH CONTROL IN Pittsburgh
Cockroaches are known for their resilience and rapid breeding rates. We begin by thoroughly inspecting your property to identify the scope of the infestation and locate the source. Our team then uses effective and eco-friendly pesticides to eliminate these pests. Finally, we provide guidance on preventative measures to keep these unwanted guests away from your property.
WILDLIFE REMOVAL IN Pittsburgh
Are your invading pests bigger in size? Our team is here to help with a wide variety of rodent and wildlife removal in Pittsburgh, safely and humanely removing creatures such as rodents, bats, birds, squirrels, raccoons, and more. For your own safety, rely on an expert wildlife removal team rather than attempting to drive them out yourself.
RODENT CONTROL IN Pittsburgh
Rodents like rats and mice can carry diseases and cause significant damage to your property. Our rodent control process starts with an inspection to identify the species, size, and location of the infestation. We then employ traps, baits, and exclusion techniques to remove these pests. After the rodents are removed, we seal entry points and provide guidance on how to keep your property rodent-free.
SERVICE AREA
Allegheny County
Beaver County
Butler County
Crawford County Lawrence County
Mercer County
Westmoreland County
CONTACT INFORMATION
Phone: (412) 385-4399
Email: office@completepestsolution.com
Address: 554 Washington St, Carnegie, PA 15106
Hours:
Monday-Friday    9:00am-5:00pm
Saturday               9:00am-1:00pm
Sunday                  Closed
Pittsburgh's Top Pest Control Company
Our family-owned operation is your premier choice for pest control services in Pittsburgh, Pennsylvania, and the surrounding areas. We understand the unique pest problems in the Pittsburgh area, and have designed our pest control services to suit. From the cobblestone streets of Pittsburgh to the suburban homes of Bethel Park and the commercial establishments of Bridgeville, our service areas are vast and varied.
Through our diligent work and a deep understanding of the pest ecosystem, we deliver precise and lasting solutions to your pest infestations. Whether it's treating termite colonies or managing bed bug infestations, our Pittsburgh pest control experts are trained to deal with it all.
Our pest control solutions prioritize not just the elimination of existing pests, but also proactive measures to prevent future infestations. For instance, our termite control services include both extermination and preventive measures like installing termite barriers.
Pricing and Guarantees
We believe that high-quality pest control shouldn't break the bank. That's why we strive to offer the best pest control services at competitive prices. We're transparent about our pricing—no hidden costs, no surprise charges.
As part of our commitment to quality, we offer a satisfaction guarantee. If you're not completely satisfied with our services, we promise to make it right.
Get Your Free Inspection Today!
Don't let pests rob you of your peace of mind or the comfort of your home or business. For the top pest control services in Pittsburgh, PA, and the surrounding Pittsburgh areas, choose Complete Pest Solutions.
Contact us today for a free inspection! Our team of experienced exterminators is ready to address your pest control needs and provide you with a comprehensive, eco-friendly, and effective pest control solution.
Complete Pest Solutions—where pest problems meet their end!
With these steps, we promise an effective, comprehensive approach to pest control, letting you enjoy your indoor and outdoor spaces without the nuisance of ants.
Is investing in ant treatments worth it?
Absolutely. Ant treatments offer numerous benefits that improve the comfort and safety of your living spaces:
Reduced Health Risks: Ants can carry harmful bacteria like E. coli and salmonella. By effectively controlling ants, we lower the risk of exposure to these illnesses.
Enhanced Comfort: Ants can cause distress, especially in severe infestations. Our treatments effectively reduce the ant population, letting you enjoy your living spaces undisturbed.
Pet Protection: Some ants can bite or sting, posing a threat to your pets. Our professional ant treatments keep your pets safe.
Invest in your peace of mind with Complete Pest Solutions. We are committed to providing superior ant control services in Pittsburgh, ensuring a comfortable, safe, and ant-free environment for you and your loved ones.
How often will I need ant control?
The frequency of ant treatments depends on various factors. Our technicians will assess your situation and recommend the most effective treatment plan.
Can I DIY ant control?
While some DIY methods may offer temporary relief, professional services like ours at Complete Pest Solutions provide long-term solutions and protection against ants.
Do you provide ant control services for commercial properties in Pittsburgh, PA?
Absolutely, we offer comprehensive commercial ant control services for both residential and commercial properties. Whether it's a home, office, restaurant, or any other setting, our team is equipped to handle the situation efficiently.