PROFESSIONAL PEST CONTROL IN ATLANTA IS A PHONE CALL AWAY!
If your home or business has become overrun with pests, Complete Pest Solutions is here to help you return to pest-free living. If you need extermination services for bed bugs, termites, flying insects, and other pests, or the removal of larger creatures such as rodents or bats, our team can provide the professional and experienced service you require.
Contact Complete Pest Solutions today for pest control services in Atlanta and the surrounding areas of Cobb County, Cherokee County, and Bartow County. Our team aims for pest control perfection!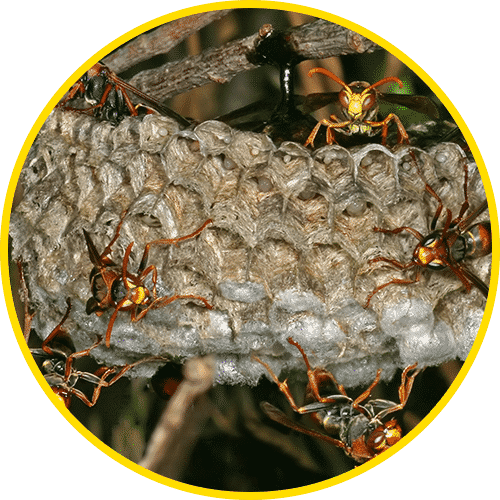 HOW CAN WE ASSIST YOUR HOME OR BUSINESS?
Our team of pest control professionals brings more than 20 years of experience to your job.
We use top-of-the-line equipment to ensure thorough pest control and prompt service.
Our team offers transparency and communication throughout the entire process, eliminating pests with a customer-first focus.
We provide a quarterly visit service to ensure year-round pest elimination.
Our team has the expertise required to eliminate a wide variety of tough pests — bed bugs, termites, insects, rodents, and other unwanted invaders are no match for us!
CONTACT COMPLETE PEST SOLUTIONS FOR PROMPT ASSISTANCE WITH ANY OF THE FOLLOWING SERVICES:
BED BUG EXTERMINATION IN ATLANTA
Bed bugs are an especially notorious home pest, as they can be difficult to find and even more difficult to fully eliminate. Without effective service, you may find the problem quickly return to square one. If you have bed bugs in your home, be sure to go with a professional team of exterminators to ensure a job well done that doesn't result in a repeat problem.
We'll handle the job from beginning to end, allowing you to once again sleep soundly without the threat of bed bugs. Contact us today for complete bed bug extermination in Atlanta.
TERMITE INSPECTION IN ATLANTA
Termites are another of the most feared pests, as these tiny creatures can cause extensive damage to your property. If you notice signs of termite infestation such as clicking sounds, hollow timber, warped doors, and non-functioning windows, give us a call before the problem becomes worse.
Complete Pest Solutions offers termite inspections and removal in Altanta, which can potentially save an untold amount of money by avoiding extensive repairs to your structure.
INSECT EXTERMINATION IN ATLANTA
Ants, spiders, flying insects, and other varieties of pests all cause unique threats and annoyances in your home or business. We have the tools and experience to handle a wide range of insect removal jobs to perfection.
Don't hesitate when it comes to exterminating insects — unwanted pests can cause dangerous bites, allergic reactions, and an unsanitary environment in your home or business. Contact us today for ant extermination, spider extermination, wasp extermination, and more.
RODENT & WILDLIFE REMOVAL IN ATLANTA
If you are having issues with larger creatures such as rats, bats, racoons, birds, or squirrels, it's always advised to use the services of a professional. Our team knows how to remove pests in a safe manner for everyone involved, preventing any property damage or the spread of disease. Contact our team today for safe, effective, and humane wildlife removal in Atlanta.
SERVICE AREA
Cobb County
Cherokee County
Bartow County
CONTACT US TODAY FOR PEST AND ANIMAL REMOVAL IN ATLANTA
If you're experiencing unwanted pests in your home or business, you want effective service as soon as possible to ensure the problem doesn't become even worse. The professionals at Complete Pest Solutions are your top choice for timely, thorough pest control services and wildlife removal in Atlanta. Contact us today for pest control help when you need it!